Wolf Air Diesel Dive Compressor
Introducing the Wolf Air Diesel 19cfm Dive Compressor
WINTER SPECIAL
Wolf air DIESEL
$7,722.00 + GST + Freight
A dive compressor designed for all who want to take advantage of the safety and efficiency features
of Diesel fuels and for industries where petrol is prohibited on site.
Note: We now have available Hour Metres for our Wolf Air Compressors
Stainless Steel + Medical grade breathing air + Commercial Industry grade
Takes one diver to 40m or two divers to 25m
The Australian pioneers of tough, reliable, commercial grade dive hookahs, Wolf Air has now released the Wolf Air Diesel 19 cfm dive compressor. Ultimately designed for use in both the mining and commercial diving industries the stainless steel fit out combined with the medical quality breathing air and Yanmar Diesel 4.7Hp motor allow supreme safety, efficiency and compliance with every industry-related Standards Australia regulation.
Our Wolf Air dive compressors feature a four stage stainless steel filtration system which provides medical grade breathing air by first passing through the intake filter then filtering through specialised dive compressor elements that purify and remove moisture from the air. Wolf-Air dive compressors pass a strict air purity test before dispatch .
Our Australian made dive compressors are built by a specialised team of highly knowledgeable and experienced commercial divers, engineers and fabricators. Our diving hookahs are extremely easy to use and come complete with an Wolf Air Dive Compressor Operation Manual which contains all you need to know about its use and maintenance.
Features
Takes 1 diver to 40m and 2 divers to 25m comfortably
Pressure vessel (frame) made from Austenitic chromium nickel steel (304)
Compact and lightweight design (W 54cm x L 79cm x H 59cm - 63Kg overall)
Yanmar Diesel 4.7Hp motor—Better fuel efficiency & safety
ABAC 19 cfm pump (500 L.P.M)
Air intake hose & Stainless steel filter
Base plate and all fixtures stainless steel
Department Labour approved pressure vessel to AS1210 class 3 approval number 84586
Stainless Steel filter towers - DIY filter replacement
Every Wolf Air dive compressor now features stainless steel handles for easy lifting
Note: We now have available Hour Metres for our Wolf Air Compressors
*The hours recommended for the Wolf Air filter change is dependant on the moisture content of the air received.
Wolf-Air's Law on Diving : What goes down MUST come up
Those in the sub-tropical, tropical and equatorial climate range will need to replace dive compressor filter elements more frequently. Weather conditions with high moisture levels will also effect the life of the elements. (Source: http://www.bom.gov.au/iwk/climate_zones/images)
Wolf Air Diesel 19cfm Dive Compressor
Industry
Wolf Air Component
Associated Australian Standard
Accreditation / Qualified Test
Commercial Diving
Air􏰈 Filt􏰈ration􏰂 System􏰁
P􏰈ressur􏰈e Relief Val􏰄ve
Couplin􏰂gs & Fittin􏰂gs
In􏰂let an􏰂d Ex􏰎haust V􏰄alv􏰄es
Occupational Diving Operations AS/NZS 2299.1:2007
Draeger Air Quality Test
Confined Spaces/Mining
Air Filtration System
Compressed Airline Standard
AS 1715:2009
Draeger Air Quality Test
Confined Space/Mining
Oil & Gas Industry
Diesel Motor
Respiratory Protection Standard
AS 1715:2009
Commercial Diving
Confined Spaces/Mining
Wolf-Air Stainless Steel Frame
Pressure Vessels AS 1210:2010
Built by AS approved welder
Identification plate fitted
Class 3 approval #84586
INTEREST FREE FINANCE AVAILABLE
Wolf Air can offer interest free payments over 6, 12, 18 or 24 months through Certegy ezi-pay. All that is required is 25% deposit and the remainder paid fortnightly.
Product Gallery
Click any image below to view larger copies
OTHER DIVE COMPRESSORS & ACCESSORIES: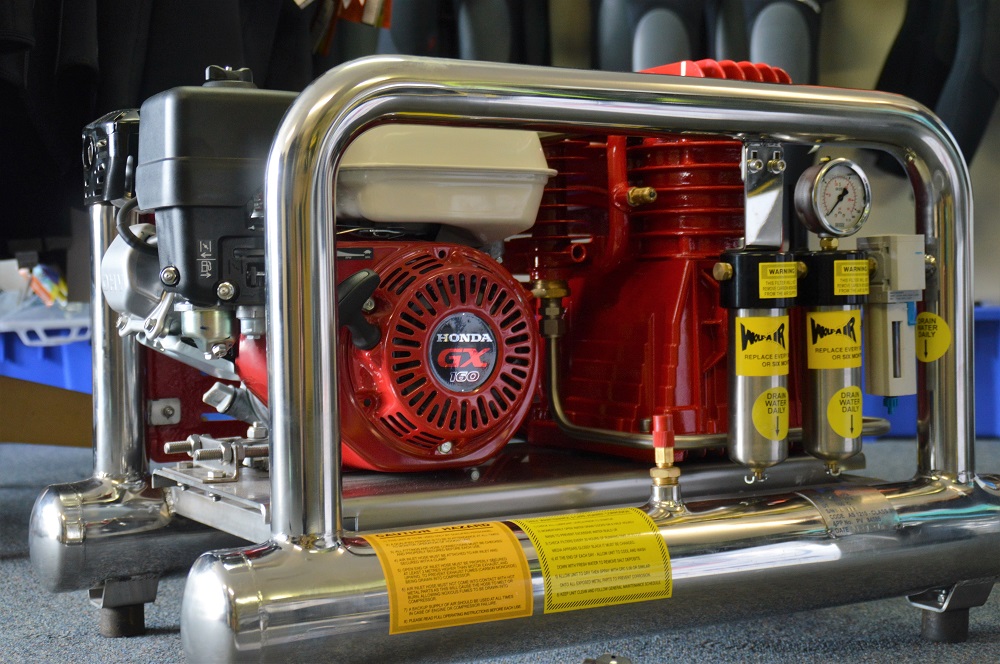 Wolf Air stocks dive compressor filter accessories for hookah diving and commercial diving operations: Filter Pads, Dive Hoses, Hose Reels, Couplings & Teemas. We also stock Divers Breathing Hose 8 or 10mm, reusable Hose Ends / Crimped Ends, Male/ Female Temas, Dive Regulators, Full Face Masks, Air Filter Units, Gauges, Water Traps and Molecular Sieves.
Activated Carbon
Filter Pads
Hose Reels Galvanised
Hose Reels Stainless Steel
Brass Connectors