Wolf Air 12V Electric Dive Compressor
Introducing the Wolf Air 12 Volt Electric Dive Compressor
WOLF AIR FITTINGS
Single Diver · $1,914.00 + FREIGHT @ Cost
DOUBLE DIVER · $2,494.00 + FREIGHT @ COST
COMMERCIAL FITTINGS
Single Diver · $2,086.50 + FREIGHT @ COST
DOUBLE DIVER · $2,731.50 + FREIGHT @ COST
ALTERNATIVE EZI-PAY WOLF AIR FITTINGS
PAYMENT OPTION (INTEREST FREE): OVER 12 MONTHS

sINGLE DIVER DEPOSIT OF $570.36 FOLLOWED BY FORTNIGHTLY PAYMENTS OF $66.39
(26 PAYMENTS IN TOTAL)
DOUBLE DIVER DEPOSIT OF $705.35 FOLLOWED BY FORTNIGHTLY PAYMENTS OF $85.23
(26 PAYMENTS IN TOTAL)
"Can be cleared over the phone"
CALL US NOW 0434542476
A dive compressor that will run off of a boat or vehicle battery or any 12 Volt battery.
One Diver to 12m and Two Divers to 8m is ideal for diving for crays, scallops, abalone or boat cleaning and repair.
The Australian pioneers of tough, reliable, commercial grade dive hookahs, Wolf Air has now released the Wolf Air 12/24 Volt Electric Dive Compressor.
Our Australian made dive compressors are built by a specialised team of highly knowledgeable and experienced commercial divers, engineers and fabricators.
Features
20m of 10mm Commercial Dive Hose (Standard Length)
Y Piece inc.2 x 5m Hoses & Regulators (Two Diver)
Wolf Air fittings or commercial fittings
Lockable Commercial Stainless Steel Tema's
Oceanic Alpha 8 Regulators / Predator Regulators
Battery Power Volt Meter
Stainless Steel/Plastic Durable Carrying Case
Minimal Set Up Time: Approx. 2 Minutes
9 Litre Reservoir
Wolf Air Mini-wolf Specifications
Model
Twin silicone diaphragm pump
Motor Type
12 VOLT / 24 VOLT DC Brush
Max pressure
1.85 bar - operating 25 PSI
Environment temperature
0-40 ºC
Max current
12V - 13 AMP, 24V - 7 AMP
Case size
47cm (L) X 20cm (W) X 19cm (H)
INTEREST FREE FINANCE AVAILABLE
Wolf Air can offer interest free payments over 12, 18 or 24 months through Certegy Ezi-Pay on all of our compressors with 25% deposit and the remainder paid fortnightly.
Wolf-Air's Law on Diving : What goes down MUST come up
Those in the sub-tropical, tropical and equatorial climate range will need to replace dive compressor filter elements more frequently. Weather conditions with high moisture levels will also effect the life of the elements. (Source: http://www.bom.gov.au/iwk/climate_zones/images)
OTHER DIVE COMPRESSORS & ACCESSORIES: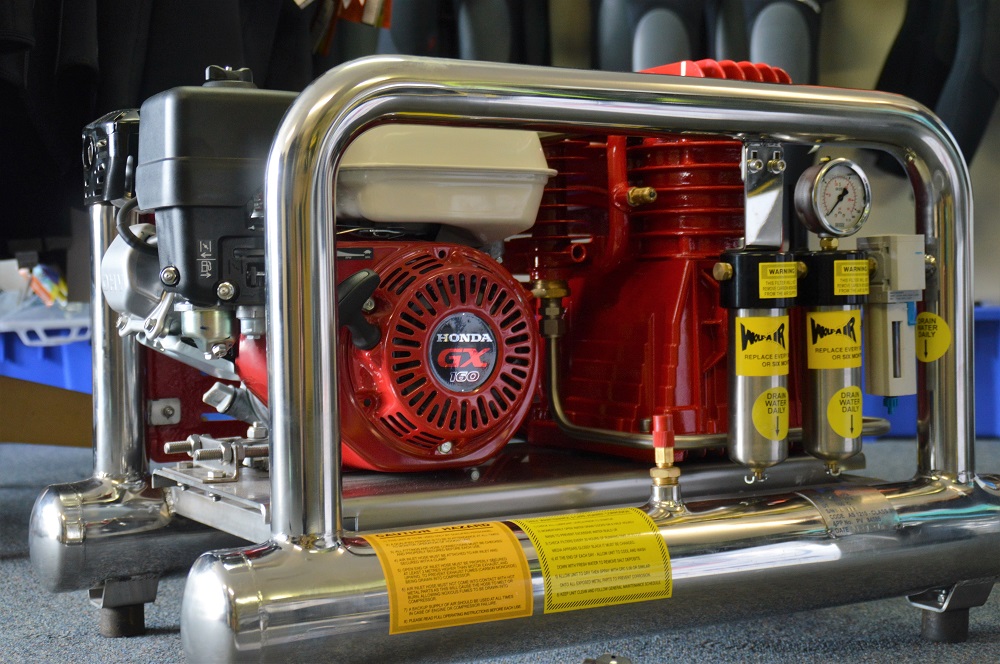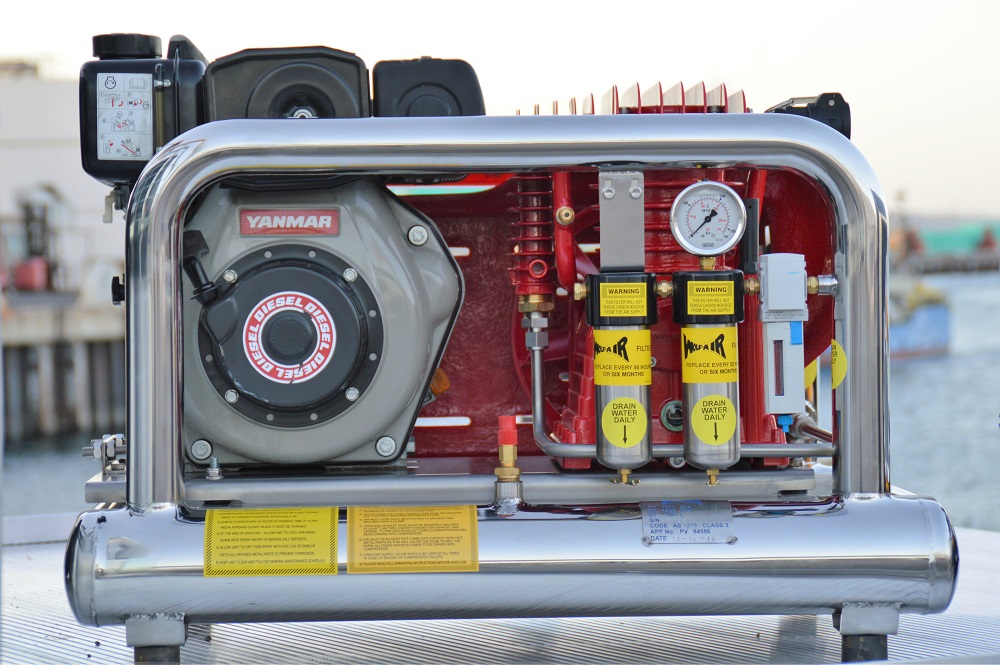 Wolf Air stocks dive compressor filter accessories for hookah diving and commercial diving operations: Filter Pads, Dive Hoses, Hose Reels, Couplings & Teemas. We also stock Divers Breathing Hose 8 or 10mm, reusable Hose Ends / Crimped Ends, Male/ Female Temas, Dive Regulators, Full Face Masks, Air Filter Units, Gauges, Water Traps and Molecular Sieves.
Activated Carbon
Filter Pads
Hose Reels Galvanised
Hose Reels Stainless Steel
Brass Connectors